The dc project is an educational, nonpartisan initiative that brings women, at least one from each state, to Washington,dc. to establish A relationship with their legislators and reveal the faces and stories of firearms owneRS and 2nd amendment supporters.
EACH WOMAN HAS SELF FUNDED THEIR TRIPS TO DC AND TRAVEL TO VARIOUS OTHER EVENTS AND MEETINGS ACROSS THE COUNTRY IN ORDER TO GET OUR MESSAGE OUT IN SUPPORT OF OUR 2ND AMENDMENT.  WE ARE FIGHTING WELL FUNDED NATIONAL GROUPS. THIS FUNDRAISER IS TO OFFSET THE COSTS FOR THESE WOMEN SO THAT THEY CAN CONTINUE TO REPRESENT YOU AT OUR NATIONS CAPITOL, IN THEIR OWN HOME STATES AND WHEREVER THE FIGHT TAKES US.
WE ARE RAFFLING OFF A WONDERFUL PIECE OF ART CREATED BY MY FRIEND AND FELLOW COMPETITIVE SHOOTER, KJ KAHNLE.  KJ IS THE FANTASTIC ARTIST AND CREATOR OF GUNPOWDER ART MT, LLC.  KJ CREATES VERY UNIQUE AND EXTRAORDINARY ART PIECES BY EXPLODING GUNPOWDER ON PAPER.  HER TECHNIQUES USED TO ACCOMPLISH THE TEXTURES AND COLORS ARE ASTOUNDING AND CAME THROUGH SEVERAL YEARS OF TRIAL AND ERROR TO ACHIEVE HER AMAZING RESULTS,  VISIT HER WEBSITE AT WWW.KJKAHNLE.COM FOR MORE OF HER WORK.
"STILL FLYIN" FLAG CREATED BY EXPLODING GUNPOWDER TO BURN PAPER. FLOATING 1/4 ABOVE A PAINTED RED BACKGROUND AND DISPLAYED IN A 2″ DEEP DARK BROWN SOLID WOOD FLOAT FRAME.  $500 VALUE, 11X16 (EXACT: 11 1/4 X 15 3/4) ARTIST: KJ KAHNLE
THIS TATTERED AND BATTLE WORN FLAGS REPRESENTS ALL THAT HAS BEEN PUT INTO THE FIGHT THROUGH THE YEARS TO PROTECT AND PRESERVE OUR 2ND AMENDMENT. ALTHOUGH THE FIGHTERS ARE BATTLE WORN AND WEARY, WE ARE STILL STANDING AS IS THE FLAG THAT REPRESENTS ALL THAT WE HOLD DEAR.
TICKETS ARE PRICED AT $20 EACH OR 3 FOR $50. CLICK ON LINK BELOW TO PURCHASE.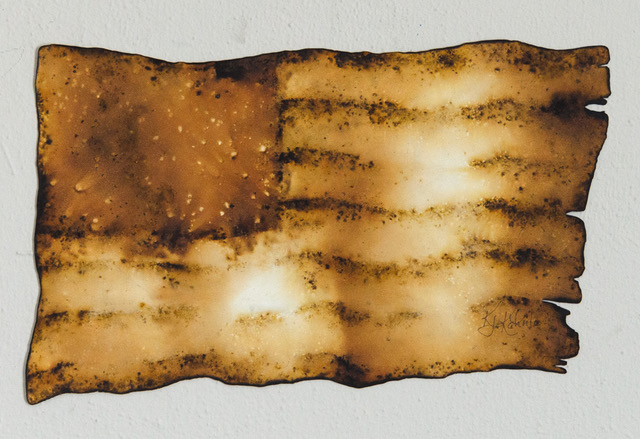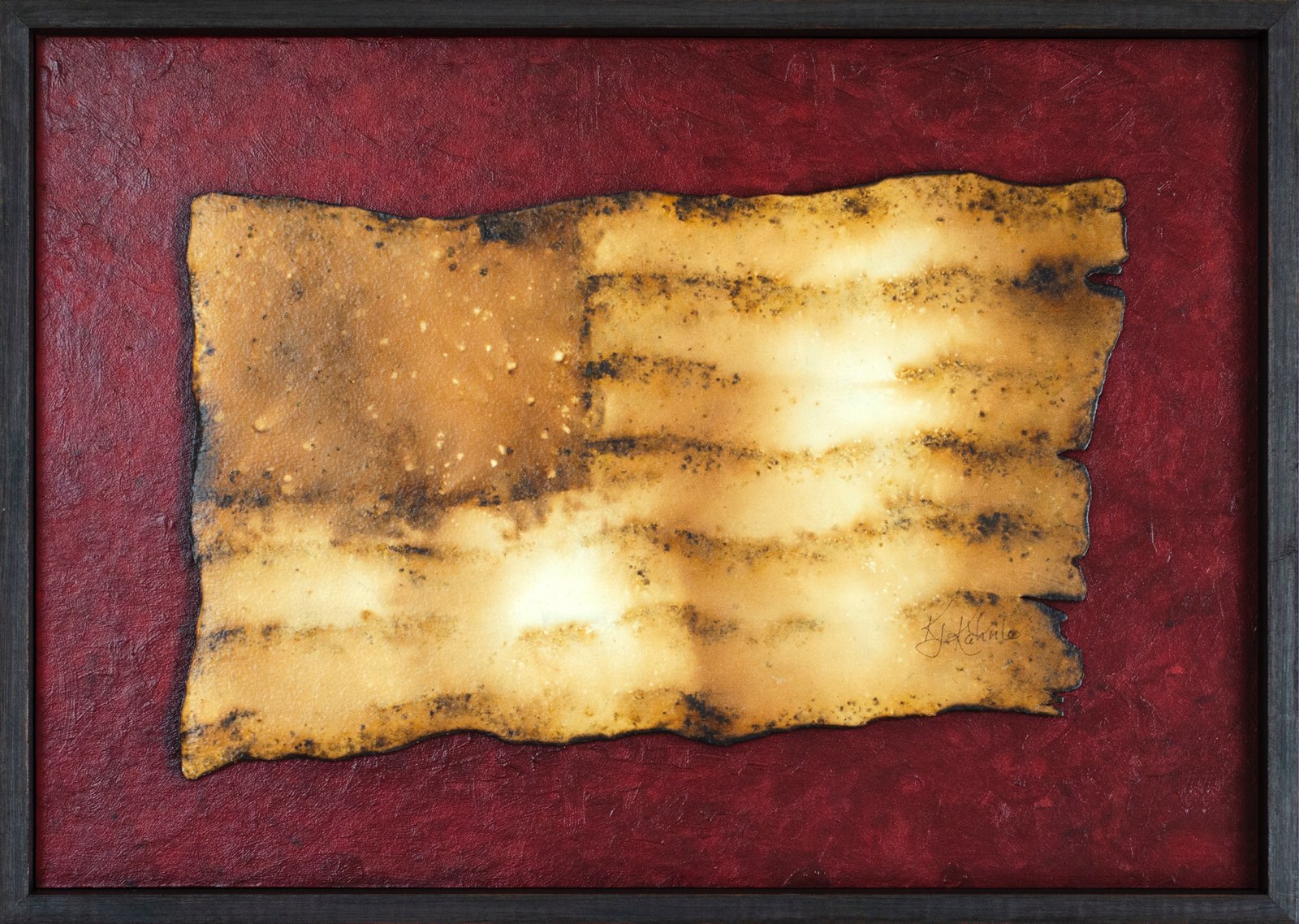 The DC Project is a group of fifty women from all fifty states that go to Washington DC every year to meet with our legislators about Second Amendment issues. Women are the fastest growing demographic of firearm owners.  We believe that showing our lawmakers the face of women gun owners is vitally important in the fight to preserve the Second Amendment. Our stories range from violent attacks,  providing food for families, to recreational shooters and sport shooters.  We believe that establishing a relationship with our leaders is important.  They get to see how their decisions affect our lives and the safety of ourselves and our families. Our stories are powerful. Our faces are unforgettable. We are the Second Amendment. For more info or to donate to the cause go to www.dcproject.info